The Best Place To Buy And Sell Your Props For Stage, Events And Films
1 listing found in all categories
Listings found in 1 category
Listings found on 2 other partner domains
Showing 1 - 1 of 1 items
The searchlight has 3 bars of 6 par36 'blinders', barn doors and gel on a mesh frame.
It has an adjustable flying frame and comes on its own travel cart.
In good working order, just needs a bit of tlc with a paintbrush and some WD40 for the flying frame.
It measures 54in dia x 32in deep including the barn doors.
I'm selling off my hire stock which includes risers, complete stages, set carts, stage decks, custom lighting, lighting tripod stands, stage sets, power distro, hydraulic pumps etc. Watch this space or follow this link
This show 'searchlight' is custom made in aluminium so is relatively lightweight. - easy 2 man lift.
£400 ono VAT Free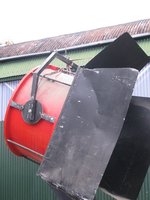 Showing 1 - 1 of 1 items