The Best Place To Buy And Sell Your Props For Stage, Events And Films
Search
Showing 1 - 7 of 7 items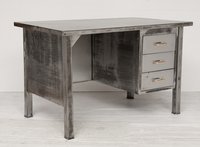 Price: £2200 ono including VAT
Traditional army style tent that has been stored away dry. In excellent condition. Panels can be inspected (on a dry day). There are no repair patches, and virtually no colour fading.
Approx 48' x 19'. center poles 12'6 high.
wooden green painted split king poles x 4
Click here for more info and contact details......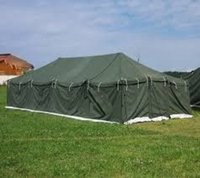 Price: £150 ono VAT Free
Vintage reclaimed 1966 Francis 17 inch flood / search light GES fitting can be 300/500/1000 watt 110/240 volts.
Simple slide beam adjustment.
Original alloy cradle with bolt mount holes.
Steel barrel with brass fittings, spun alloy reflector.
Original fittings, original silver paint showing aged patina.
Click here for pdf
Click here for diagram and measurements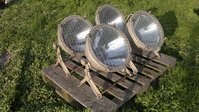 Price: £300 +VAT
MOD Lighting kit in sturdy wooden boxes.

These kits were used to light up mess tents each kit consists of

Two 110v transformers
Bulbs
50 Lights
50 shades
Distribution wiring.

Each light is individually switched.

This kit could be used for a Army themed events, lighting for catering marquees, Clamping tents or festival dining tents.

We could make up larger or smaller kits as required.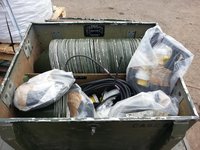 Price: £1000 VAT Free
Excellent condition dark green Ex-Army marquee for sale. 18' x 20' (5.5m x 6m).
Purchased in 2010.
Kept dry indoors when not in use.
Used only twice, 2010 & 2012.
Excellent 'as new' canvas, rot proof and fire resistant.
More.....
Showing 1 - 7 of 7 items