The Best Place To Buy And Sell Your Props For Stage, Events And Films
Search
Showing 1 - 4 of 4 items
Loads of items included in this sale - so a real bargain!
Included in this set;
6 x large Beach signs (largest is approx 100cm x 40cm)
Printed 'Beach' signs - approx 10 included. Good for sticking on walls around venues.
7 x Wood effect sheets - I was going to make some beach props with these. Will be included in the sale....
Click here for more info.....
A complete set of props that are perfect for any Beach Party or Hawaiian themed event.
£400 VAT Free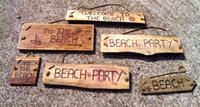 Showing 1 - 4 of 4 items