The Best Place To Buy And Sell Your Props For Stage, Events And Films
Search

Replica Cannon is 6ft long and is superbly detailed.
High quality, durable, cold cast poly-resin & fibre-glass.
In as new condition, only a few months old & only used for display purposes at a single location.
Fabulous Pirate model standing with his foot on a replica barrel. He has knives attached to his belt and a metal sword. The rope-work around the barrel is incredibly realistic.
£450 +VAT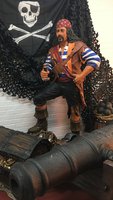 Showing 1 - 3 of 3 items