The Best Place To Buy And Sell Your Props For Stage, Events And Films
Search

She will need a bit of TLC but her structures are solid and she still has the wow factor!
So, we have:
Three separate Audrey puppets of different sizes.
Herne Bay Musical Theatre Society needs to find a new home for its 3 Audrey IIs. The biggest includes a slide in her mouth for the bodies to slide down.
£400 VAT Free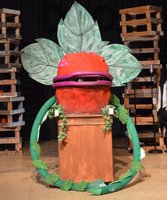 Showing 1 - 1 of 1 items