The Best Place To Buy And Sell Your Props For Stage, Events And Films
Search
Showing 1 - 5 of 5 items
All lights work, all foot paddle switches work. This has recently been totally overhauled and serviced with TFT monitor conversion upgrade, new power supply and new CD ROM drive. In great working condition with many classic songs.
**RECENTLY SERVICED / OVERHAULED**
We can demonstrate the machine in our warehouse, as the machine is used /second hand we cannot offer any warranty once it leaves us.
Click on this link to see the full listing and contact details
We have for sale a Konami Euromix Dance Stage 2. FULLY WORKING / OPERATIONAL.
£1250 +VAT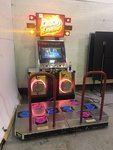 Not Just Another Bug Hunt!
It's been years since the Colonial Marines left planet LV-426 and the Alien population behind. It's time to go back to finish off the Alien monsters…and more!
The world seems familiar, but the scenario is not. Since the Marine's last visit, the "Wheland Yutan Corporation", reprogrammed an army of synthetic humans to stop anything from getting in the way from the Company's development of their deadly Bio Weapons. It's not as simple as just killing Mother Alien any more!
Click here for more info.....
Deluxe 42" Arcade Machine. Fantastically priced Aliens Extermination twin gun arcade game. Fully serviced and in great condition, this game is a fantastic money earner. Kids and adults alike, cannot resist popping two pounds a go to get disembowelled by those lovely money making Aliens.
£6000 +VAT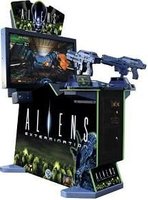 Showing 1 - 5 of 5 items