The Best Place To Buy And Sell Your Props For Stage, Events And Films
Search
Showing 1 - 3 of 3 items

The one that could be a Tyrannosaurus is 50ft long and 30ft high.
The baby is only 25ft long and 20ft high.
Surprisingly they are inflatable and made of ripstop nylon, although you would not know it as they peer over hedges.
They are easy to transport as they can fit into an estate car with ease.
It takes one person a few mins to inflate.
Two inflatable dinosaurs props. Ideal for celebrating the anniversary of Jurassic park!
£5000 VAT Free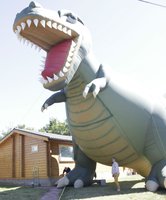 Showing 1 - 3 of 3 items