The Best Place To Buy And Sell Your Props For Stage, Events And Films
Search

This high-backed bean bag shape is created with its unique panelled cover. As you sit into the bucket seat some of the FreeFlow bead inside is sent into the tall back creating a bespoke chair shape just for you.
OUTDOOR APPROVED
Take this bright bean bag chair outside! Made in 100% water resistant Aqua-TX fabric, it's the perfect seat at a BBQ, picnic or garden party. Easily wipe clean any spillages and store inside when not in use.
Paid £40.00 each ..
14 High Back bean bags all different colours bought new 3 months ago never used still in bags.
£25 VAT Free each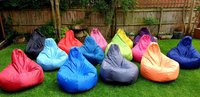 £5 +VAT each Showing 1 - 11 of 11 items