The Best Place To Buy And Sell Your Props For Stage, Events And Films
Search

Was made and used for our civil ceremonies.
It is extra wide.
This is the top half of the arch so would need to be supported at each side.
Excellent condition. Flowers from country baskets and cost about as much as the price were asking for the arch!!
Wedding Arch including all flowers.
£150 +VAT £1900 including VAT ono Does not include lights, background Queen of Hearts door covering, ball shrubs or trees.
Metal arbor. Decorated in an Alice in Wonderland theme. Includes Mad Hatter Hat and clock, teapots and tea cups, 2 plastic flamingos, playing cards, flowers, drink me glass bottle and eat me paper mache cake plus 2 heavy cement garden pots to stand arbor in as it was an indoor wedding.
£175 including VAT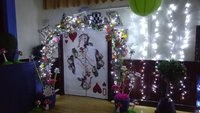 Showing 1 - 14 of 14 items