The Best Place To Buy And Sell Your Props For Stage, Events And Films
Search


This wall takes flute sizes up to 25cm tall x 9cm wide (largest size) and fits any flutes/glasses smaller than this size.

This material is not made from mdf/wood so it doesn't warp or absorb moisture, it does not require painting, supplied pure white No gluing is required, just slots in nicely.
Holds 48 Glasses made from White 10mm Thick cleanable waterproof hard lightweight plastic.
£265 VAT Free each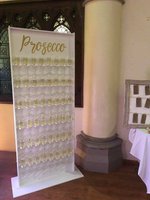 Showing 1 - 1 of 1 items