The Best Place To Buy And Sell Your Props For Stage, Events And Films
Search

The trees are showing some signs of wear and tear (some crystals missing, small areas of rust) hence the low price.
The picture attached shows the tree in use as a table centre dressed with lights and crystals. Please note these are NOT included.
There is also 1 x large 1.8m trees with base which i will throw in FOC.
I am selling 27 x silver metal crystal trees. each with sprayed silver branches with a faceted crystal on the end of each branch.
£400 VAT Free ono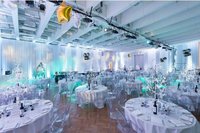 Showing 1 - 3 of 3 items